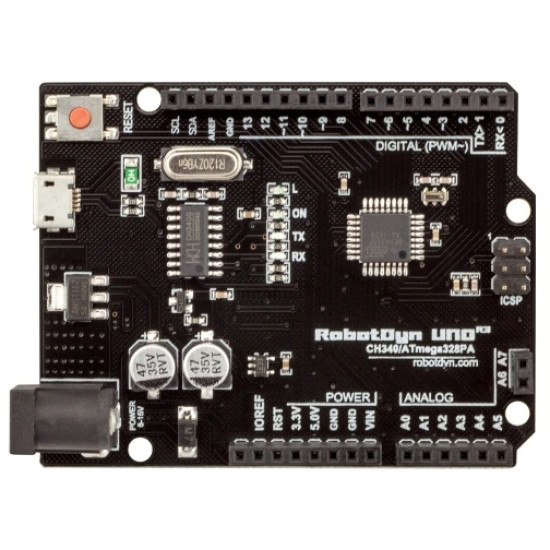 -10 % Out Of Stock
Arduino Uno R3 Black CH340 Board with MicroUSB connector
Stock:

Out Of Stock

Model:

TD-AUNOBLK

Weight:

80.00g
Products Sold: 0
Product Views: 791
Arduino Uno 328P MicroUSB Black
The Arduino Uno is a microcontroller board based on the ATmega328PU. It has 14 digital input/output pins (of which 6 can be used as PWM outputs), 6 analog inputs, a 16 MHz ceramic resonator, a USB connection, a power jack, an ICSP header, and a reset button. It contains everything needed to support the microcontroller; simply connect it to a computer with a USB cable or power it with a AC-to-DC adapter or battery to get started.
The advantages from our point of view are:
MicroUSB female jack and more suitable even your smartphone has the same.
Consistently designed with 5V. It is not to pay attention to 3V / 5V.
The board is easy to program via the USB interface. No complicated libraries or drivers.
Therefore, the bootloader comes out with 0.5 kB, unlike other bootloader requiring 2 kB. So there is more space for the application.
The processor can be removed from the base and replaced. We can thus provide better support, by sending an individually programmed module.
Low production costs and thus a favorable price for you.
Specifications:
Processor: ATmega328-P
Flash memory: 32 kB (of which 0.5 kB used as the boot loader)
SRAM: 2KB
EEPROM: 1 kB
Operating voltage: 7-12V
Digital I / O Pins: 14 (of which 6 can be configured as PWM)
Analog inputs: 6
Package Contents:
1 x Arduino UNO R3 328 Board
1 x 40-pin male header strip
USB Driver: Search for "CH341SER" and install it according to Operating System you are using.
*image shown is real.