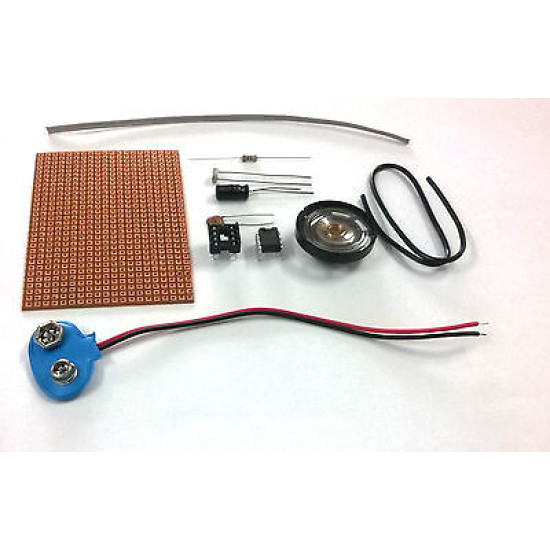 555 Light Sensitive Screamer Siren
Stock:

In Stock

Model:

TD-PKM1

Weight:

30.00g
Products Sold: 0
Product Views: 642
This product has a minimum quantity of 40
NOTE - MINIMUM ORDER QUANTITY FOR THIS PRODUCT IS 40.
555 Light Sensitive Screamer Siren
Description:
This circuit will produce an ear-piercing scream, depending on the amount of light being detected by the Light Dependent Resistor. As the amount of light detected by the LDR increases the intensity of the sound also increases.
This circuit is recommended for students and hobbyists as it teaches the basic concept of 555 Timer Circuits and the working principle of LDR (Light Dependent Resistor). It is a very interesting circuit and fun to make, Children as well as adults can learn very much from this circuit.
Kit Contains:
555 Timer IC = 1
Pin IC Base = 1
Other Components - Capacitors, Resistors, ...
Speaker = 1
Wire For Speaker = 1
LDR ( Light Dependent Resistor ) = 1
Battery Cap = 1
Jumper Wire
Perforated PCB = 1
Tutorial Page (Circuit Diagram, Working, ...)
Soldering skills reqiured.

Prior knowledge of Electronics required.

Kits are tested from our end therefore, we do not guarantee for non working of any project kit from Customer end.

Returns are not acceptable for Project-Kits. Please refer "Terms and Conditions"
*Image shown is a representation only.