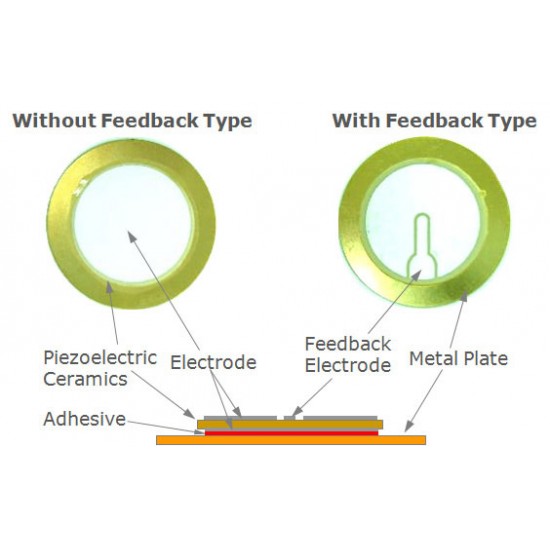 27mm Piezo Discs with 3 Contact - Electrode Acoustic Pickup, CBG Guitar, Buzzer
Stock:

In Stock

Model:

TD-PIEZO

Weight:

5.00g
10 or more ₹ 14.50
25 or more ₹ 14.00
50 or more ₹ 13.50
100 or more ₹ 13.00
27mm Brass Piezo Discs with 3 contacts
Description:
These are perfect for constructing contact mics, CBG pickups, touch-sensors, drum triggers, speakers, buzzers, etc
​Picture Illustration: (comparision)
Note: The 3rd lead is Feedback Electrode (Hartley Oscillator, Buzzer, etc...).
If you're using this as a PICKUP for CBGs/Acoustic Instruments, cut off the Feedback Electrode and use the ELECTRODE and METAL PLATE as you would typically use them.
Operation Specifications:
Resonant Frequency: 4.0 ±0.5KHz
Resonant Resistance: 500Ω Max
Capacitance: 20,000pF ±30% @ 1KHz
Operating Temp: -20C to 60C
Storage Temp -20C to 70C
Size Specifications​:
Brass Disc: 27mm x .20mm
Ceramic Disc: 20mm x .25mm
Other Information:
ROHS Compliant
3 contact type piezo
Package contents:
1 x 27mm Brass Piezo Discs with 3 contacts
*image shown is real.