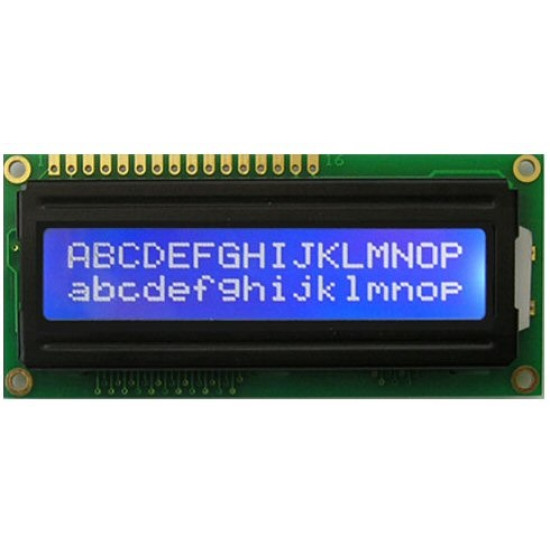 -25 %
LCD 16X2 Alphanumeric Display Blue Backlight
Stock:

In Stock

Model:

TD-LCD162B

Weight:

50.00g
If you want to add some visual output to your Arduino projects, you'll need a display. If you need only a little to display, the LCD 16×2 Parallel LCD Display is a quite good solution. This is a genuine JHD Display as there are many fake JHD Displays in the Market.
This is a great blue backlight LCD display. It is fantastic for Arduino based project. This LCD 16×2 Parallel LCD Display with Blue Backlight is very easy to interface with Arduino or Other Microcontrollers.This is LCD 16×2 Parallel LCD Display that provides a simple and cost-effective solution for adding a 16×2 White on RGB Liquid Crystal Display into your project. The display is 16 character by 2 line display that has a very clear and high contrast white text upon a blue background/backlight.
The values shown on the display can be either simple text or numerical values read by the sensors, such as temperature or pressure, or even the number of cycles that the Arduino is performing.

Features :
16 characters wide, 2 rows
White text on the yellow background
Single LED backlight included can be dimmed easily with a resistor or PWM.
Can be fully controlled with only 6 digital lines! (Any analog/digital pins can be used)
Specifications:
Display: 16×2 character
5 x 7 Dots with Cursor
Built in Controller
+5v Power Supply
1/16 Duty Circle
Backlight: White LED

* Image shown is a representation only.