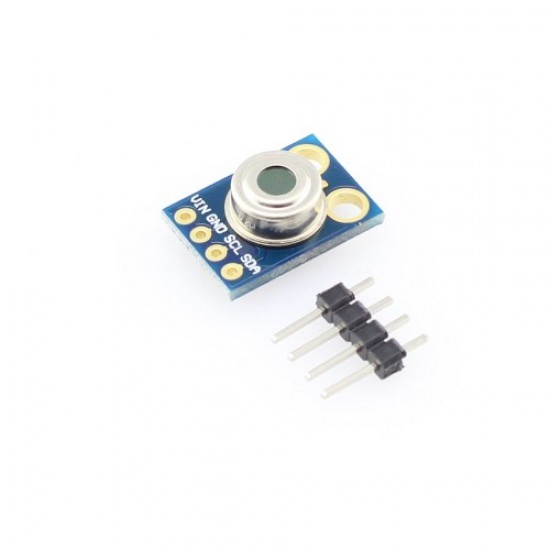 -50 %
Infrared Wireless Temperature Sensor - GY-906 MLX90614ESF BAA
Stock:

In Stock

Model:

TD-MLXIR

Weight:

15.00g
Products Sold: 0
Product Views: 2333
Infrared Wireless Temperature Sensor - GY-906 MLX90614 BAA

Infrared Thermometer
Description:
Melexis' MLX90614ESF is an infrared thermometer designed for non-contact temperature sensing. An internal 17-bit ADC and a powerful DSP contribute to the MLX90614's high accuracy and resolution. It has a huge number of applications including body temperature measurment and movement detection.
The MLX90614 provides two methods of output: PWM and SMBus (i.e. TWI, I2C). The 10-bit PWM output provides a resolution of 0.14°C, while the TWI interface has a resolution of 0.02°C. The MLX90614 is factory calibrated in wide temperature ranges: -40 to 85°C for the ambient temperature and -70 to 382.2°C for the object temperature. The measured value is the average temperature of all objects in the Field Of View of the sensor. The MLX90614 offers a standard accuracy of 0.5°C around room temperatures.
This devices comes in an industry standard TO-39 package.
Feature:
Small size, low cost
Easy to integrate
Factory calibrated in wide temperature range:

-40 to +85°C for sensor temperature
-70 to +380°C for object temperature

SMBus compatible digital interface
Customizable PWM output for continuous reading
High accuracy of 0.5°C over wide temperature range (0 to +50°C for both Ta and To)
Measurement resolution of 0.02°C
Different package options for applications and measurements versatility
Automotive grade
Operating Supply Current: 1.3 mA
Temperature Threshold: + 380 C

Brand: Melexis
Package/Case: TO-39-4
Maximum Operating Temperature: + 85 C
Minimum Operating Temperature: - 40 C
Resolution: 10 bit
Interface Type: 2-Wire
Supply Voltage - Max: 3.3 V

(THIS IS IMPORTANT)

Supply Voltage - Min: 2.6 V
Accuracy: +/- 0.5 C
Configuration: Remote
Output Type: Digital

Applications Examples:

High precision non-contact temperature measurements
Thermal Comfort sensor for Mobile Air Conditioning control system
Temperature sensing element for residential, commercial and industrial building air conditioning Windshield defogging
Automotive blind angle detection
Industrial temperature control of moving parts
Temperature control in printers and copiers
Home appliances with temperature control
Healthcare
Livestock monitoring
Movement detection
Multiple zone temperature control – up to 127sensors can be read via common 2 wires
Thermal relay / alert

Related Documents

*image shown is real.