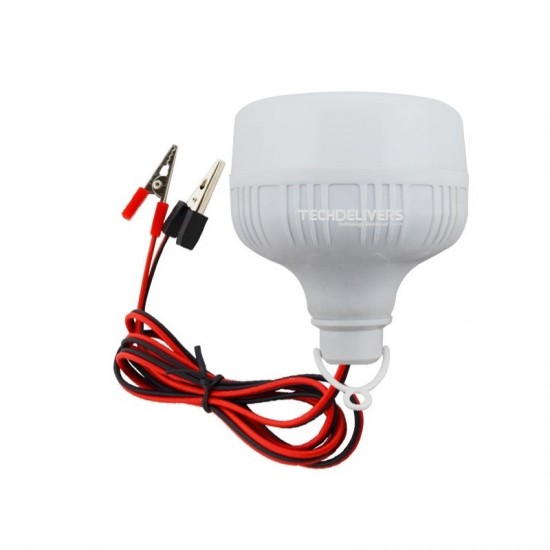 New


LED Bulb 20Watt DC 12V Solar SMD Lamp Crystal White
Stock:

In Stock

Model:

TD-LED20W12V

Weight:

55.00g
20 or more ₹ 95.00
40 or more ₹ 90.00
60 or more ₹ 85.00
100 or more ₹ 80.00
A solar LED bulb with 12V and 20W power rating is suitable for use in off-grid solar systems. It can be powered by a 12V battery charged by a solar panel or a solar controller.
One thing to note is that the bulb's power rating of 20W may not necessarily indicate its brightness, as the brightness of an LED bulb is determined by its lumens (lm) output. A 20W LED bulb can have a range of lumens output depending on its design and efficiency.
It's also important to ensure that the bulb is compatible with your solar system voltage and that the battery capacity is sufficient to power the bulb for the desired duration. Additionally, it's recommended to use high-quality components and follow proper installation procedures to ensure optimal performance and safety.
Here are some key features and characteristics of this LED lamp:

Power Rating: The LED lamp has a power rating of 20 watts (W), indicating the maximum power it consumes during operation. This power rating determines the brightness and intensity of the light emitted.

Voltage: It operates with a DC voltage of 12V, making it suitable for solar-powered lighting systems that typically utilize 12V batteries or panels.

SMD Technology: The LED lamp utilizes surface-mount device (SMD) technology, which allows for compact packaging and improved energy efficiency. SMD LEDs are known for their high brightness and reliability.

Crystal White Light: The LED lamp emits a crystal white light, providing a clean and bright illumination. The specific shade of white may vary depending on the manufacturer and product variant.

Energy Efficiency: LEDs are renowned for their energy efficiency, consuming less power compared to traditional lighting technologies. This LED lamp offers energy savings while delivering sufficient illumination.

Solar Compatibility: The LED lamp is designed for use with solar-powered lighting systems, making it suitable for off-grid or environmentally friendly applications. It can be directly connected to a 12V solar battery or integrated into solar-powered lighting setups.

Long Lifespan: LED lamps generally have a longer lifespan compared to traditional bulbs, reducing the frequency of replacements and maintenance.
The 20Watt DC 12V Solar SMD LED Lamp Crystal White bulb is a specialized LED bulb designed to operate with a direct current (DC) power supply of 12 volts (V) and is specifically intended for solar-powered lighting systems. It emits a crystal white light, providing illumination in an energy-efficient manner.
Specifications:

Item Type: 20 Watt DOB White Color DOB PCB

Wattage: 20 watts

Operating Voltage: DC 12 volts

Color: White
Use: Can be used in various projects, change floodlights, road side shopkeepers for lighting purposes where bring electricity is main problem as location is dynamic.
*image shown is a representation only, brand may vary depending on stock.
Tags:
12v dc led bulb raw material
,
12v dc bulb
,
12 volt dc led bulb price
,
dc led bulb 20 watt
,
12v dc led bulb
,
12v dc led bulb price in india
,
12v dc led lights india
,
dc bulb 20 watt price
,
Solar LED bulb 12V 20W
,
12V DC LED bulb solar powered
,
Off-grid solar LED bulb 12V 20W
,
12V LED bulb for solar system
,
Solar powered DC LED light bulb 12V 20W
,
12V LED light bulb for RV or camper
,
12V LED bulb for marine or boat Solar panel compatible 12V LED bulb 20W
,
Low voltage 12V DC LED bulb for solar applications