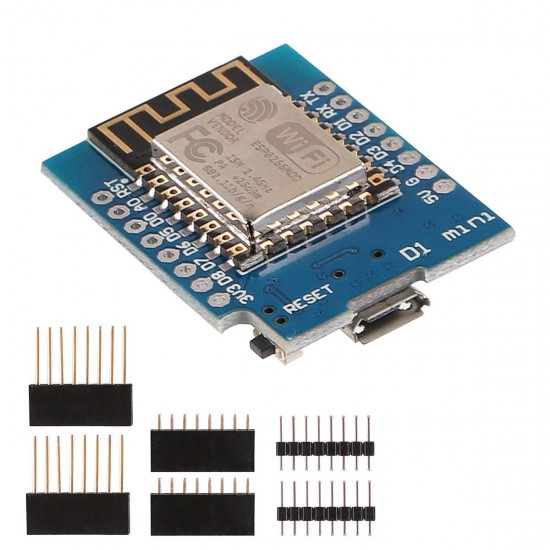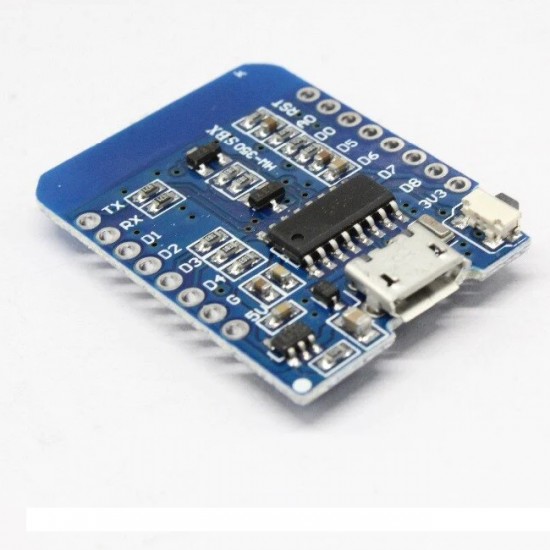 New -47 %


Wemos D1 Mini Wifi ESP8266 Development Board Arduino Compatible
Stock:

In Stock

Model:

TD-WEMOSMINI

Weight:

20.00g
The Wemos D1 Mini is a ESP8266 Based Wifi development board in form of common Arduino Uno board format. And so the board is compatible with Arduino IDE and NodeMCU. It also has an onboard switching regulator allowing us to power the module from power supply of upto 12V.
The UNO Based ESP8266 Nodemcu Development Board in the form of the Arduino UNO board format. This board is compatible with the Arduino IDE and with NodeMCU.
The board is controlled by the ESP8266 chip (a 32-Bit processor) and has a larger flash memory compared to an Arduino Uno. It consists of 9 digital I/O pins and 1 analog pin. the board can be connected using a Micro-B type USB cable.

One is 3.3V max analog input and power pins to power up the module. It is very easy to use and one of the biggest features is that you can use it with Arduino IDE which allows you to connect with the local network or provide internet access to your project. It is compact, versatile and very reliable and allows you to make your project IoT enabled.

Specifications:
Based on ESP-8266

Arduino compatible, using Arduino IDE to program.

Support OTA wireless upload.

The direct use of Arduino IDE development

Operating Voltage: 3.3V

Digital I/O Pins: 9

Analog Input Pins: 1



Package Contents:
1 x ESP8266 NodeMCU Mini D1 Module

2 x 8 pins Male Headers

4 x 8 pins Female Headers
*image shown is a representation only.

Tags:
wemos d1 r2
,
wemos d1 r2 pinout
,
nodemcu esp8266 original
,
esp8266 nodemcu cp2102
,
esp8266 board
,
nodemcu production board
,
wemos d1 mini pinout
,
wemos d1 mini pro
,
wemos d1 mini projects
,
wemos d1 mini datasheet
,
wemos d1 mini tasmota
,
wemos d1 mini lite
,
wemos d1 mini battery
,
wemos d1 mini shield