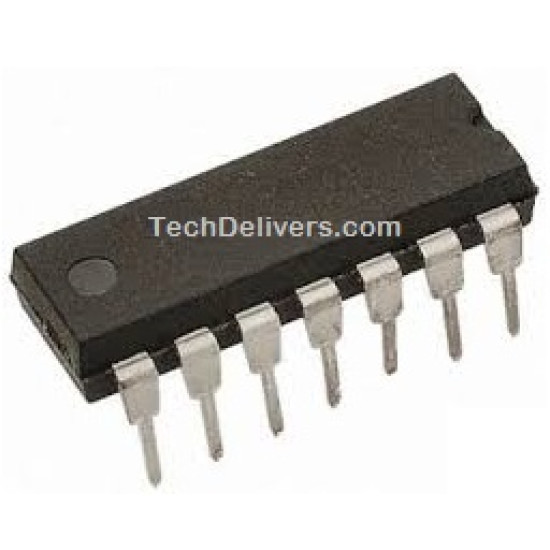 74HC164 - 8-bit serial-in, parallel-out shift register
Stock:

In Stock

Model:

TD-7H164

Weight:

5.00g
Products Sold: 0
Product Views: 484
74HC164 - 8-bit serial-in, parallel-out shift register
The 74HC164; 74HCT164 is an 8-bit serial-in/parallel-out shift register. The device features two serial data inputs (DSA and DSB), eight parallel data outputs (Q0 to Q7). Data is entered serially through DSA or DSB and either input can be used as an active HIGH enable for data entry through the other input. Data is shifted on the LOW-to-HIGH transitions of the clock (CP) input. A LOW on the master reset input (MR) clears the register and forces all outputs LOW, independently of other inputs. Inputs include clamp diodes. This enables the use of current limiting resistors to interface inputs to voltages in excess of VCC.
| | |
| --- | --- |
| Category | Integrated Circuits (ICs) |
| Name | 74HC164, 8-bit serial-in, parallel-out shift register |
| Family | CMOS |
| Series | 74xxx |
| Mounting Type | Through Hole |
| No. of Pins | 14 (DIP) |
Features:
Input levels:

For 74HC164: CMOS level
For 74HCT164: TTL level
Gated serial data inputs
Asynchronous master reset
Complies with JEDEC standard no. 7A
ESD protection:

HBM JESD22-A114F exceeds 2000 V
MM JESD22-A115-A exceeds 200 V.

Specified from -40 'C to +85 'C and 40 'C to +125 'C.
*Image shown is a representation only.