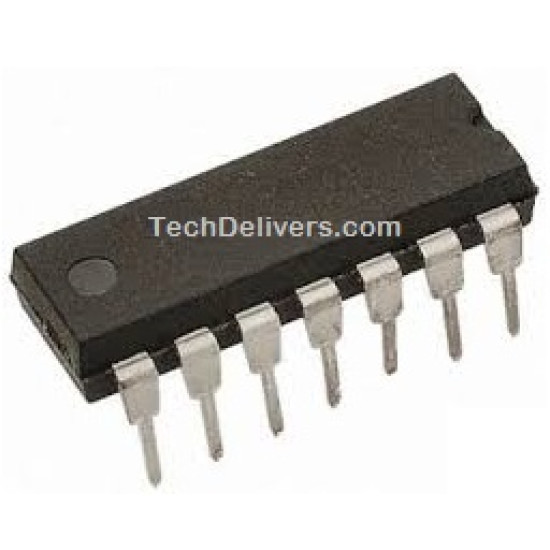 74HC74 / 74HCT74 - Dual D-type flip-flop with set and reset; positive-edge trigger
Stock:

In Stock

Model:

TD-7L74

Weight:

5.00g
Products Sold: 0
Product Views: 440
74HC74 / 74HCT74 - Dual D-type flip-flop with set and reset; positive-edge trigger
Description:
The 74HC/HCT74 are high-speed Si-gate CMOS devices and are pin compatible with low power Schottky TTL (LSTTL). They are specified in compliance with JEDEC standard no. 7A.
The 74HC/HCT74 are dual positive-edge triggered, D-type flip-flops with individual data (D) inputs, clock (CP) inputs,
set (SD) and reset (RD) inputs; also complementary Q' and Q outputs.
The set and reset are asynchronous active LOW inputs and operate independently of the clock input. Information on the data input is transferred to the Q output on the LOW-to-HIGH transition of the clock pulse. The D inputs must be stable one set-up time prior to the LOW-to-HIGH clock transition for predictable operation.
Schmitt-trigger action in the clock input makes the circuit highly tolerant to slower clock rise and fall times.
| | |
| --- | --- |
| Category | Integrated Circuits (ICs) |
| Name | 74HC74 - Dual D-type flip-flop with set and reset |
| Family | CMOS |
| Series | 74xxx |
| Mounting Type | Through Hole |
| No. of Pins | 14 (DIP) |
Features:
Output capability: standard
ICC category: flip-flops
*Image shown is a representation only.