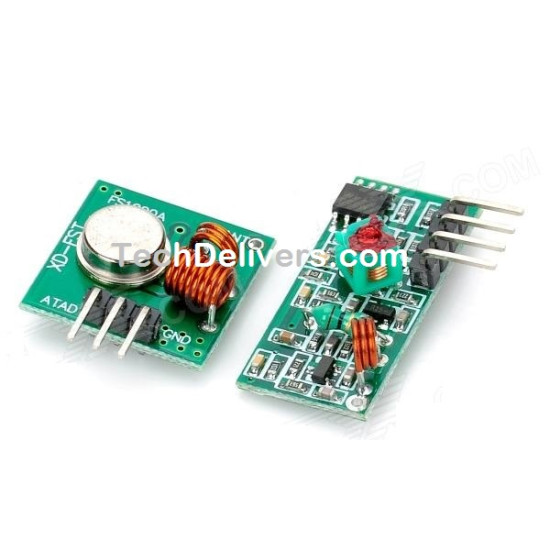 -27 %
433MHz RF Wireless Receiver and Transmitter Module
Stock:

In Stock

Model:

TD-RF433Lo

Weight:

20.00g
Products Sold: 1
Product Views: 754
433Mhz RF Wireless Receiver and Transmitter Module
433Mhz RF Super regeneration Wireless Receiver and Transmitter Module
Specfications:
Receiver
Model: MX-05V
Voltage: DC 5V
Current: 4MA
Frequency: 433.92MHZ
Sensitivity: -105DB
Transmitter
Model: MX-FS-03V
Transmitter distance: 20-200Meters(influenced the voltage)
Voltage: 3.5-12V
Working mode: AM
Transmitter speed: 4KB/S
Transmitter power: 10mW
Frequency: 433M
Pin arrangement: left-right(DATA;VCC;GND)
Applications:
Remote controller ,car bugular alarm, Rolling door, window, remote control LED, Amplifer and so on.
Note:
VCC Voltage should be comply with working voltage.
Antenna is very important for working voltage,and the length of the antenna is 17cm the placement of the antenna is also critical for the performance of receiver, unbend the antenna when you install it, and avoid shilder and high voltage.
* Above description is based on specifications found on internet for this item, datasheet will not be provided, user's intelligence is necessary.
* Images shown is a representation only.