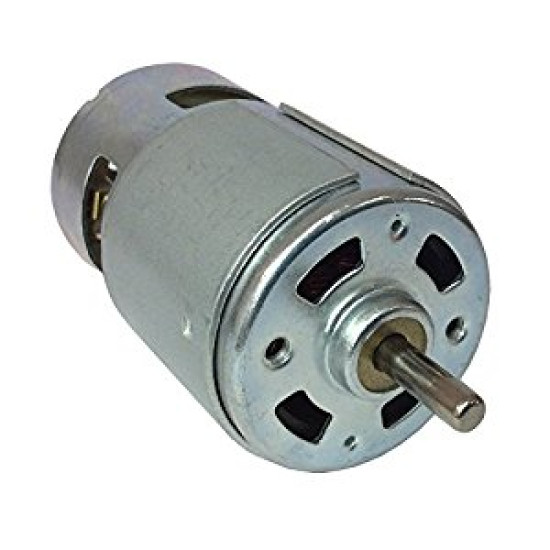 -33 %


555C Motor 5800 RPM 12V DC to 24V DC - 2.5inch 555
Stock:

In Stock

Model:

TD-MOT555

Weight:

165.00g
Products Sold: 2
Product Views: 991
25000RPM Motor - DC 12V - 115Grams
Description:
100% brand new and high quality. - High strength and wear resistance - Strong magnetic, large torque, motor using ball bearings,enhance the rigidity of the motor - There are also pressure sensitive resistance, anti interference - High speed of 5800RPM.
This DC Motor with its High 5800 revolution per minute feature is frequently used in various kind of High RPM applications like those in Remote controlled Model Aero Planes and for Suction. The 3mm diameter shaft of this motor can be coupled easily with commonly available Propellors.
Operating Voltage: 12V DC to 24V DC
Current: 0.08 A (blocking up to 3 A)
Voltage: 24 V Current: 0.15 A (blocking 4.5A) Speed: 5800 RPM
Output Shaft length: 14 mm
Shaft diameter: 3 mm shaft
Motor diameter: 35.8mm (with anti-magnetic ring 37mm)
Motor length: 66.5mm
Screw hole: M 3 Screw hole distance: 24.5 MM
Superior running quietness and stability
Motor weight: ~165grams (approx)
Typical Applications:
PCB Drilling.
Printer.
Automotive Products.
Rearview Mirror/Head Light Beam Level Adjuster.
*Image shown is a representation only.